PRACTICE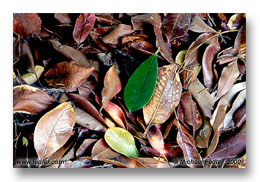 The old saying "Practice Makes Perfect" applies here. I don't think you can ever become perfect in photography but you can definitely hone your talents. What I mean by the word "Practice" is to take pictures as often as your time or budget allows. Don't just shoot a lot of pictures for the sake of quantity. Shoot what you can with the intent on improvement. A simple analogy to this is driving a car. I know of plenty of people that drive and get plenty of practice at it but never improve there driving skills. The reason for this is they are not actively trying to improve their driving talents. They are just driving.

After you have your pictures developed, be sure to analyze them to see what went right and what went wrong. You'll find that you will remember what you did wrong at the moment you took the picture when you review your work. You will also find that you make mistakes that you did not realize at the time of exposure. If you are watching what you are doing and analyzing your results, the number of mistakes you make will diminish over time.

If you are new to photography your mind will be racing over all the important things you are suppose to remember while taking that important shot. There will be more things to remember about exposure, composition, and equipment than are humanly possible to think about at one time. The important thing is that over time and with practice the things you were trying so hard to remember each time you were getting ready to take a shot will come to you as second nature. Once that starts to happen, you can start using your artistic talents rather than worrying about all the little details.

The image shown as an example along with this tip is one of many photos I have taken around my home just because I wanted to practice. In this shot I was combining three areas of practice: #1 Composition, #2 Color contrast, and #3 Macro photography. I practice and experiment often to learn what works for me and what doesn't. Go ahead and see what some serious practice can do for your skills.